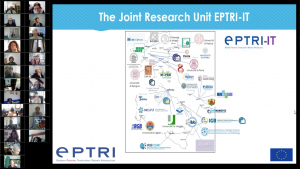 The first meeting of the EPTRI Italian Node (EPTRI-IT) was held online on October 28th, 2020. The 3 hours meeting was attended by more than 60 representatives coming from the 24 Italian Institutions – members of the Node.
The meeting was kicked-off by Donato Bonifazi, CEO at CVBF and Coordinator of EPTRI, who provided an overview of EPTRI-IT, its composition, objectives, governance and activities.
EPTRI-IT is a result of the strong cohesion among its members (public and private research Institutions) aiming to reinforce the paediatric research in Italy by promoting and sharing the progress of biological and medical science in paediatrics and to contribute in reducing the serious delays in providing paediatric patients with age-tailored, safe and efficacious advanced medicines and innovative therapies.
EPTRI-IT will be organised as a Joint Research Unit (JRU), coordinated by Consorzio per Valutazioni Biologiche e Farmacologiche (CVBF) together with Consiglio Nazionale delle Ricerche (CNR) and the Italian Network for Paediatric Clinical Trials (INCiPiT) which will be respectively in charge of the general management and of chairmanship of the two decisional boards: the General Assembly (GA) and the Scientific Committee (SC).
Sergio Giannattasio, Chair of the EPTRI-IT GA and Adriana Ceci, Chair of EPTRI-IT SC, have shown the scientific excellence the Italian Node dispones of and how it will be organised in terms of distribution in the EPTRI Thematic Research Platforms and expert groups to guarantee the provision of services to the paediatric scientific community and to foster collaboration at national and international level.
Two important testimonials on a successful Research Infrastructures were shared by Marialuisa Lavitrano, Professor of Pathology at Milano-Bicocca University and Director of the Italian Node of BBMRI-ERIC (the European research Infrastructure for Biobanking) and Graziano Pesole, Professor of Molecular Biology at the University of Bari and Head of the Italian Node of ELIXIR (a distributed infrastructure for life-science information). They both confirmed their great support to EPTRI and the need to establish a Research Infrastructure entirely dedicated to paediatric basic, pre-clinical and translational research. EPTRI will collaborate with BBMRI-ERIC and ELIXIR for the provision of common services such as paediatric ELSI service (research relating to ethical, legal and societal issues) and paediatric data interoperability service.
Moreover, Luca Sangiorgi from Istituto Ortopedico Rizzoli, Bologna and Coordinator of the European Reference Network Bone Rare Diseases (ERN BOND), depicted the plans of collaboration and integration of research initiatives in the fields of paediatric and rare diseases.
Brief interventions were made also by:
Prof. Cosimo Damiano Altomare, University of Bari 'Aldo Moro'.
Prof. Pier Luigi Mauri, University of Bologna.
Prof. Andrea Biondi, Milano-Bicocca University.
The meeting was closed by Giovanni Migliaccio, Scientific Director of CVBF who congratulated with the entire Italian Partnership on the work done so far and stated that this will be the forum for discussing the strategy of tomorrow's paediatric research.