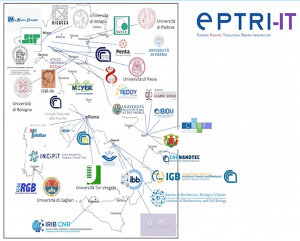 The 40th National Congress of the Italian Pharmacological Society (SIF) took place virtually from March 9-13, 2021.
The Congress main theme was the scientific value and appropriate use of drugs.
The Pharmacology sector is experiencing an exhilarating and highly transformative period. It is called to play an increasingly central role through new research methodologies, advanced therapies such as gene and cell therapies, artificial intelligence, big data and personalized medicine.
The meeting was a great occasion to exchange opinions with the stakeholders of the drug development chain.
Donato Bonifazi participated in the Congress with the presentation named: 'EPTRI, a paediatric-dedicated research infrastructure to promote the availability of safer and efficacious drugs for children' which was aimed to present EPTRI as a new infrastructure proposed to accelerate and expand the paediatric drug discovery and development processes by focusing on basic and preclinical research methods. The Italian Pharmacological Society (SIF) is one of the founding partners of the EPTRI Italian Node (EPTRI-IT).
EPTRI has been presented also through the intervention of Elisabetta Volpe from Fondazione Gianni Benzi Onlus entitled "Data Interoperability and FAIRification: a key technology in the context of the European Paediatric Translational Research Infrastructure-EPTRI" reporting the results of EPTRI capacity in the sector of data interoperability, representing one of the most relevant innovative technology for drug development.
The Congress addressed also some delicate university issues related not only to the educational programme and the Pharmacologist career in the various degree courses, but also on how to re-evaluate its essential role in the drug knowledge and development.
Particular attention was given to the young pharmacologists of SIF, which have organised scientific sessions on themes chosen by them.