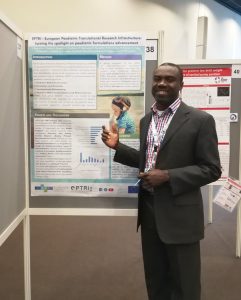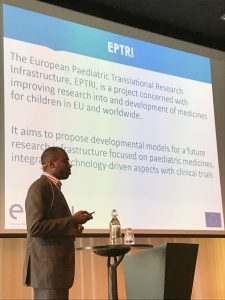 The European Paediatric Formulation Initiative (EuPFI) in partnership with the International Association for Pharmaceutical Technology hosted the 11th EuPFI Conference in Malmö (Sweden) on 10th-12th September. The theme of this year's conference was "Formulating better medicines for children. Meeting the needs of children."
A representation of the EPTRI consortium was there to illustrate the audience with some of the outcomes and milestones of the project.
EPTRI presented two different posters at the conference. The first one was entitled "EPTRI – European Paediatric Translational Research Infrastructure: turning the spotlight on paediatric formulations advancement" while the second was titled "European variations in paediatric formulations preferences: initial results of a proof of concept study of patients' research involvement via EPTRI (European Paediatric Translational Research Infrastructure)". Few poster authors were selected to give further elaboration on the content of their poster and in this occasion EPTRI's second poster was included in the discussion.
Dr. Francis Brako, from University College London, delivered an oral presentation on behalf of EPTRI, where he gave further insight into our Europe wide study on children's preferences for oral formulations. Briefly, the influence of factors such as age, gender, health status and geographic location on formulation preferences among children from Albania, Italy, Romania and Spain were highlighted.
The survey on children's preferences for oral formulations is still open and is available in English, Italian, Spanish, Romanian, Czech, Albanian and soon also in Dutch, at this link: https://eptri.eu/survey-on-oral-formulations/.
It is addressed to boys and girls up to 18 years of age.