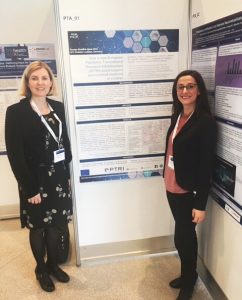 Europe Biobank Week is the largest and most significant European conference on biobanking. This year's edition was recently celebrated in Lubeck (Germany), from October 8th to 11th. Angelica Intini, from Consorzio per Valutazione Biologiche e Farmacologiche (CVBF), presented a poster on behalf of EPTRI at this relevant event.
The poster presented by Angelica was titled "How a new European Paediatric Translational Research Infrastructure (EPTRI) could support personalised medicine in children". The starting point of this work is that there is a lack of innovative biological-based medicines in children in many fields: oncology, neurology, neonatology and especially rare diseases. However, this medical field is quite promising. In order to promote personalised medicines in children, it is important to have biological products appropriately stored, managed and processed. To this aim, the survey carried out within the EPTRI project has been analysed to identify existing paediatric biological resources in the EU in order to establish a research network that may help to implement personalised medicines in children and develop innovative drugs. Among the survey respondents, 46 research units declared to currently collect biosamples of paediatric interest, with 19 institutions having biobanks exclusively dedicated to paediatric biosamples. These facts portray the scientific relevance of paediatric research in the European sector of personalized medicine.
Europe Biobank Week 2019 was the occasion to bring together professionals from academia, pharmaceutical companies, biobank associations, scientific institutes, hospitals, patients and government representatives to discuss about precision medicines and biobanking. We are really looking forward to the next edition!