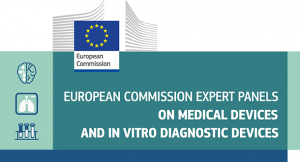 The European Commission published the call  "Call for expression of interest for expert panels on medical devices and in vitro diagnostic medical devices" to appoint experienced clinical, scientific and technical experts to scientific panels on medical devices. The experts to be selected needed to provide consistent scientific, technical and/or clinical advice on the implementation of Regulation (EU) 2017/745 on medical devices.
With great pleasure we congrats with an EPTRI expert in medical device who has been identified in the EPTRI WP3 survey, Dr. Luca Marciani from University of Nottingham, that has been selected as expert to support the work of expert panels as needed. He is a scientist with physics background and he is specialised in imaging the human gastrointestinal tract, its motor function and the luminal fate of medical devices, pharmaceutical formulations and foods using magnetic resonance imaging.
He has published 101 papers in the field attracting 3,000 cites (ISI-WoS), 13 book chapters and 2 patents. Of these publications, 8 have >100 ISI-WoS cites and 4 have achieved ISI-WoS "Highly cited" status.
Experts have a broad spectrum of tasks: in the context of conformity assessments of devices, expert panels respond to mandatory consultation procedures by notified bodies in regard to the clinical evaluation assessment of certain high-risk medical devices and the performance evaluation for certain in vitro diagnostic medical devices.
In addition and depending on need, experts:
provide scientific, technical and clinical assistance to the Commission, the MDCG, manufacturers and notified bodies in relation to the implementation of the MDR;
respond to voluntary consultations by manufacturers concerning their intended clinical development strategy;
provide advice to Member States, notified bodies and manufacturers, for instance on appropriate data sets for conformity assessment of devices and in particular with regard to clinical data required for clinical evaluation;
contribute to the development of relevant documents such as Common Specifications as well as international standards and relevant guidance documents;
provide advice to the MDCG and Commission on the safety of medical devices and in vitro diagnostic devices.
More information are available at this link. The central list of the experts selected by the European Commission to support the work of expert panels in the field of medical devices is available at this link.