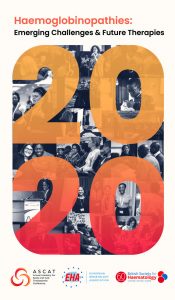 The 15th Annual Sickle Cell & Thalassaemia (ASCAT) Conference was held online on the 26th-31st of October 2020 together with the 1st European Sickle Cell Conference (EHA). It has been also the occasion to celebrate the 60th Anniversary of British Society for Haematology (BSH).
The event was aimed to discuss the latest advances in diagnosis, research and emerging fields in haemoglobinopathies as well as in clinical care, transition services and emerging new therapies including updates for curative treatment options.
Abstracts for oral and poster sessions have been collected on several topics like basic sciences and emerging therapies, psychology, QOL and patient outcomes, clinical and community implementation research, public health and health education, and other aspects of haemoglobinopathies. The selected ones have been also published on HemaSphere.
Donato Bonifazi, EPTRI's Coordinator, participated in the writing of an abstract proposed by Carsten Lederer and named "Catching them early: progress, economy and ethics of prenatal and childhood application of advanced therapies" which will be published on HemaSphere. The abstract faced the issue of the application of the advanced therapy medicinal products in treating paediatric diseases like inherited disorders and untreatable disorders with pre- or perinatal onset, for which it holds great promises for efficiency, economy and accessibility of curative treatments. The abstract highlighted the technical, ethical, legal and economic framework parameters for a successful clinical implementation of prenatal and paediatric ATMPs.
You can find the abstract available on the Abstract Book on HemaSphere at page 9.