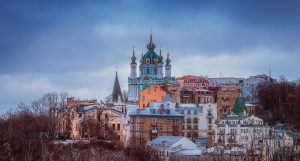 On May 17th 2019, representatives from EPTRI Coordination and the Ukrainian partner State Institute of Pediatrics, Obstetrics and Gynecology National Academy (UKR) had a meeting at the Ministry of Health in Kiev with Dr. Roman Ilyik, Deputy Ministry of Health, to discuss how the Ukrainian government can get involved and support EPTRI to fill in the gap of the serious lack of medicines for children in EU and worldwide.
After a general presentation of the project and the expected impact that EPTRI may have on the Ukrainian community, the preliminary results of the EPTRI survey were discussed showing a wide interest of Ukrainian research centers in participating in this future European Research Infrastructure, laying the foundation to establish a Ukrainian node.
The meeting was a great success and was concluded with the signature of an official letter of support to EPTRI, considering it relevant and of great importance to the research community of Ukraine, as it will contribute to the improvement of research in paediatrics, as well as to the widespread introduction of key technologies for the development of medicinal products for children.