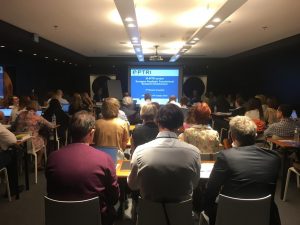 On October 9th-10th 2018, the 2nd General Assembly of the ID-EPTRI project took place in Athens (Greece) at the President Hotel and was hosted by the Greek partner ATHENA Research and Innovation Center in Information Communication & Knowledge Technologies.
The meeting provided an update on the achievements and difficulties encountered toward the implementations of specific project tasks. Advancement in the work packages and partner involvements were discussed in order to build a perfect working basis for the forthcoming activities.
The first day of the meeting was mainly focused on the discussion of the preliminary results of the context analysis as well as the status of the design of the IT platform, how it will be structured and its organization. Moreover, the meeting provided an overview of the activities done within the thematic platforms as well as an update of the communication and networking activities and the plan for patients' participation aimed to achieve a quality level in the design process of the EPTRI infrastructure.
The second day opened with the presentation of the activities of WP9 and 10. In particular, the first draft of the users survey aimed to identify all the potential service users of the future Research Infrastructure and the nature and extent of the needs for integrated approaches to drug development was presented.
The meeting ended with the discussion on the governance and sustainability of the project as well as the relationship with the existing RIs.
The collaborative environment and the strong interest shown at the meeting, has confirmed that the EPTRI project can count on a proficient partnership that will work more and more to reach all the prefixed aims and face the new challenges.
The General Assembly represented an excellent opportunity to foster fruitful scientific debates and to exchange information as well as a crucial occasion for comparing the work already done and lay the foundations for the future collaborative framework.