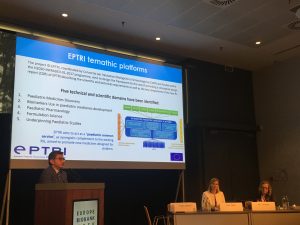 Last September 7th the EPTRI project was presented at one of the most relevant scientific events of the year: the Europe Biobank Week (EBW), celebrated this year in Antwerp (Belgium). EBW is one of the most noteworthy biobanking meetings worldwide, providing a forum for the biobanking community to discuss the future challenges in this field.
As we have previously communicated, EPTRI had been selected to participate in this conference with an oral presentation, entitled "EPTRI: Strengthening the development and use of paediatric biomarkers to offer better medicines for children". The Europe Biobank Week 2018, co-organized by BBMRI-ERIC and ESBB, was a perfect scenario to present our outcomes regarding the state of the art of research on paediatric biomarkers, an extremely useful tool to develop innovative, effective and safe paediatric medicines. The EPTRI Coordinator Donato Bonifazi spoke about omics technologies and the setup of the EPTRI thematic platform supporting biomarkers use in paediatric medicines within WP6.
The abstract book of all the oral presentation is available at this link.
We are really looking forward to attending the next edition of the EBW to present the progress made on this subject within the EPTRI project.