Designing the framework for a new European paediatric research infrastructure
Dear Colleagues,
I am pleased to welcome you to the fifth newsletter of the EPTRI project.
As you know, the project is thriving and we are laying the ground of this future research infrastructure, starting from the results collected during the context analysis that allowed us to define the services that we, as platforms, could provide.
As Leader of the Thematic Research Platform dedicated to paediatric formulations and medical devices, I am pleased to acknowledge a strong interest by the scientific community to this domain, with more than 46 research units with declared expertise in formulation science.
Each Platform has been asked to prepare a feasibility study proposal to test the process, the scientific interest, the availability of requested services and facilities needed to conduct paediatric research through EPTRI. The formulation platform submitted a proposal of study on the preparation of a newly developed active pharmaceutical ingredient (API) to treat asthma for a Phase 1 trial. The study is aiming at enhancing the solubility for better bioavailability, improving the taste to allow its formulation into a wide range of oral dosage forms and assessing modifications carried out to validate the solubility and taste improvements made. The Advisory Board is in charge of analysing the feasibility of the proposals received and is now working on the final assessment of all the proposals that will be discussed during the 4th General Assembly meeting in Warsaw.
Moreover, a survey aimed to capture the perceived preference of oral dosage forms in children has been launched in collaboration with the WP11, and the members of the three YPAGs (Young Persons Advisory Groups) KIDS Albania, KIDS Barcelona and KIDS Bari who translated it and made it children-friendly. Through EPTRI, it has been disseminated in many countries with great results: 192 Albanian, 446 Italian, 149 Romanian, 273 Spanish, 19 Swedish and 47 British respondents. Lately we have also launched the survey in Czech Republic and in the Netherlands.
Stay tuned to the latest EPTRI news on Facebook, LinkedIn and You Tube. We make science for everybody!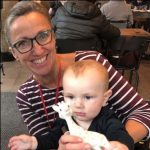 Catherine Tuleu
WP8 "Thematic Research Platform on Paediatric Medicines Formulations and Medical Devices" Leader
EPTRI at the 11th EuPFI Conference in Sweden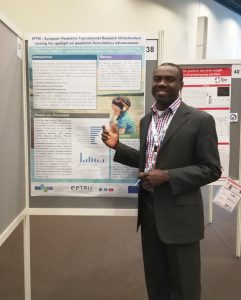 The European Paediatric Formulation Initiative (EuPFI) in partnership with the International Association for Pharmaceutical Technology hosted the 11th EuPFI Conference in Malmö (Sweden) on 10th-12th September. The theme of this year's conference was "Formulating better medicines for children. Meeting the needs of children."
EPTRI at the 14th Congress of the European Association for Clinical Pharmacology and Therapeutics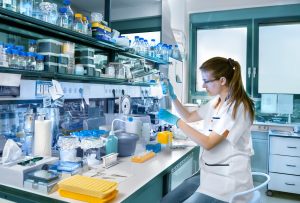 The EPTRI survey on oral formulations has been updated and it is still open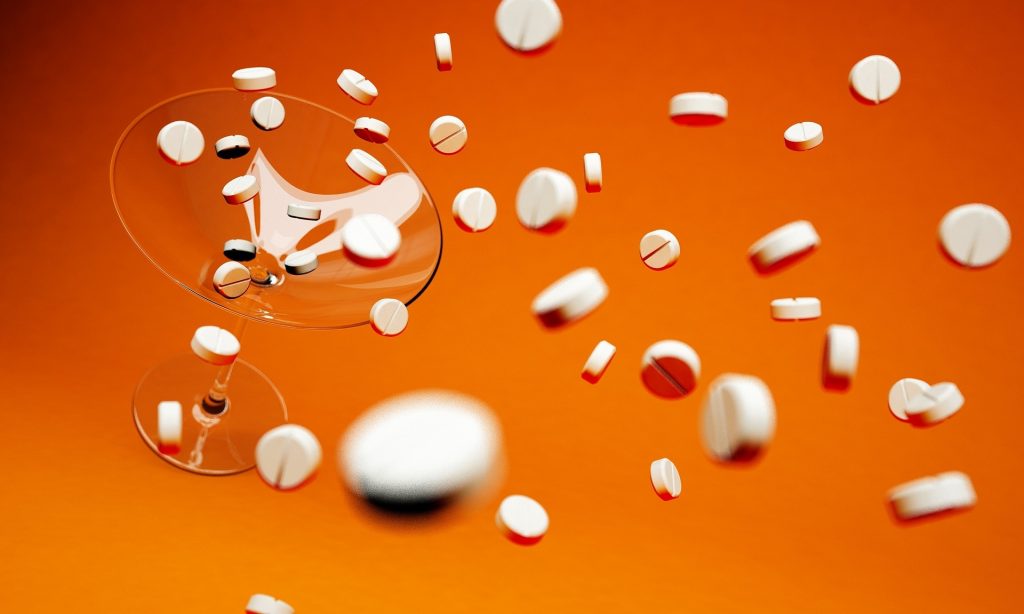 As we announced in June, the EPTRI survey on oral formulations was launched last spring with the aim of collecting data on preference of dosage forms for guiding the development of age-appropriate medicines. The survey, developed by WP8 in collaboration with WP11, uses country and age-adapted questions to quantify children's experience with taking different pharmaceutical formulations. The survey is addressed to boys and girls up to 18 years of age and can be completed with the help of an adult.
EPTRI participation in the XII Foresight Training Course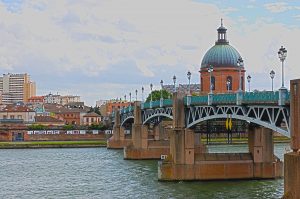 On September 27th 2019 the XII edition of the Foresight Training Course was held in Toulouse (France) at the Hotel Dieu St. Jacques. This workshop is a standing itinerant appointment organised by Gianni Benzi Foundation and the theme of this year was "Innovative Medicine and Research: Ethical, Legal and Regulatory Issues".
EPTRI on its way to become a Research Infrastructure
Two additional governments have recently shown its support to EPTRI, aimed at becoming the first Research Infrastructure focused on paediatric medicines development and integrating technology-driven aspects with paediatric research.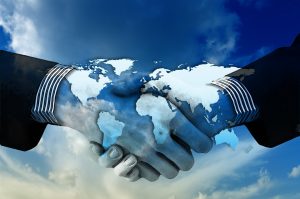 EPTRI attended PharmSci 2019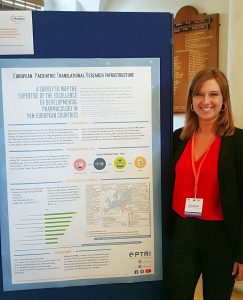 On behalf of the EPTRI consortium, Valeria Pignataro, — WP8 reference person for Consorzio per Valutazioni Biologiche e Farmacologiche (CVBF) — recently attended the 10th APS International PharmSci Conference, which was held on September 11-13th at the University of Greenwich, in London. Valeria presented two posters portraying several outcomes of the project.
EPTRI recently attended Europe Biobank Week 2019
Europe Biobank Week is the largest and most significant European conference on biobanking. This year's edition was recently celebrated in Lubeck (Germany), from October 8th to 11th.
Angelica Intini, from Consorzio per Valutazione Biologiche e Farmacologiche (CVBF), presented a poster on behalf of EPTRI at this relevant event. In the picture you can see the EPTRI poster and two of the Authors: Elke Smits, from Antwerp University and Angelica.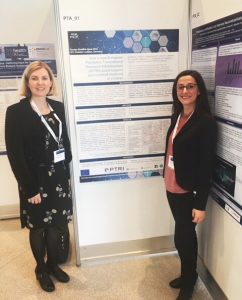 Upcoming Events

DIA Annual Meeting. November 10-12th 2019, Tokyo, Japan
This year's theme is "In Order to Deliver Rational Medicine to all the people in the world". EPTRI will present a poster on "EPTRI- European Paediatric Translational Research Infrastructure: facilitating the future development of medicines addressed to paediatric population".
9th Annual MIBio Conference. November 13th 2019, Cambridge, UK
Organised by the Formulation Science and Technology Group (FSTG), the Royal Society of Chemistry (RSC) and the Academy of Pharmaceutical Sciences (APS), this year's theme is "Stability of Biopharmaceuticals – From molecular interactions to successful products". EPTRI will present a poster entitled "EPTRI – European Paediatric Translational Research Infrastructure: the bridge through the expertise and the existing gaps to drive the innovation in paediatric formulation".
EVENTS OF INTEREST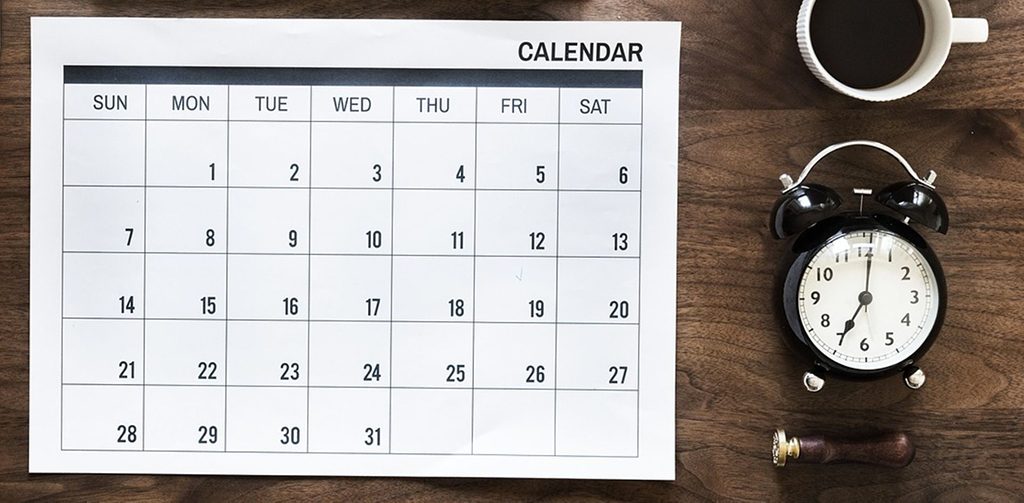 Drug Discovery 2019 – Looking Back To The Future.
November 5th-6th 2019, Liverpool, UK
Drug Discovery has become the largest meeting of life sciences industry professionals in the UK. This 2-day event will highlight the latest ground-breaking research, discuss cutting-edge advances in the application of laboratory technology to understand disease biology and to identify novel chemical and biological candidate drugs. It will assess how we got to where we are now and setting the challenges for discovering the drugs of the future.
NETTAB / BBCC 2019 Meeting.
November 11th-13th 2019, Salerno, Italy
The meeting will be focused on: data integration and data fusion platforms, integrated bio-search, grid and clouds applications and platforms, data analysis in biomedicine, structural bioinformatics and computational biochemistry, -omics and Inter-omics data integration. It foresees also a special session and activities on computational proteomics
FT Global Pharmaceutical and Biotechnology Conference.
November 11th-12th 2019, London, UK
The rise of ultra-expensive, potentially curative gene and cell therapies has brought to the fore a heated discussion about the sustainability of the industry's underlying economic and funding model. Success in the new data and patient-centric world which is emerging will increasingly depend on forging relationships with patients sustained on trust, and building new business models for the future.

Building Leadership in European Research Infrastructures.
November 20th-21st 2019, Brussels, Belgium
The meeting will bring together the RI community to share examples and successful outcomes of training programmes specific to RI leaders, and to define the future training landscape in RI management. There will also be an interactive workshop and a dedicated RI management training session.

1st Advanced Therapies Science Meeting.
November 25th‐26th 2019, Berlin, Germany
The meeting will explore the latest trends in the field of the advanced therapies science and discuss the Advanced Therapies Roadmap 2030.

15th Annual Congress on Pharmacology and Toxicology.
December 2nd-3rd, 2019 Paris, France
The event offers a best platform with its well organized scientific program to the audience which includes interactive panel discussions, keynote lectures, plenary talks and poster Sessions. Pharmacology & Toxicology is a global platform to discuss and learn about research advances in pharmacology,
neuropharmacology & psychopharmacology
, toxicology, nursing pharmacology, ethnopharmacology, food & chemical toxicology.
DIA Europe 2020.
March 17th-19th 2020, Brussels, The Netherlands
DIA Europe covers 9 topics designed to advance healthcare outcomes through innovation across 9 thought leadership streams: clinical development, data and data standards, patient engagement, pharmacovigilance, regulatory science, translational medicines and science, value and access, medical affairs, chemistry, manufacturing and control (CMC).

Toxicology Conference 2020 – Toxicology & Pharmacology Summit.
March 23rd-24th 2020, Rome, Italy
This year's theme is "Future breakthrough in Toxicology and Pharmacology for the better world". The summit will provide a forum for international researchers and academicians from various areas of biology, chemistry, pharmacology, and medicine by providing one kind of platform for critical analysis of new designing, and to share latest cutting-edge research findings, most recent movements and latest upgrades inside the field of Pharmacology with explicit keynote lectures, plenary sessions, Poster competition, Young Researchers' Forum (YRF), Workshops, Symposiums and Exhibitions from elite researchers, distinguished scientists and business delegates.