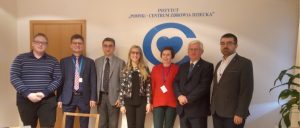 EPTRI is quite busy these days! On February 4th 2019, a meeting took place in Warsaw (Poland) at the Ministry of Health among the EPTRI Coordination Team, represented by Donato Bonifazi and Mariangela Lupo, Radosław Sierpinski, Adviser to the Minister of Health, and Marek Migdal, Director of the Instytut "Pomnik-Centrum Zdrowia Dziecka" – IPCZD (Children's Memorial Health Institute).
The meeting was an occasion to discuss about the importance of promoting research in paediatrics considering that children deserve a "special" attention as they are not little adults.
The need of treatments addressed only for children is indeed a public priority and it was agreed to start a process to create a national node for paediatric research to represent EPTRI in Poland.
The Ministry of Health confirmed the interest to support EPTRI at Institutional level, for which provided a letter of endorsement already in 2017 during the proposal submission, recognizing the relevance of this new European research infrastructure also for the patients and the patients' organisations because it can lead to an improvement of the health conditions of children.
In the afternoon, a working meeting was organised at Children's Memorial Health Institute with the IPCZD team, to discuss the participation of IPCZD in several WPs within EPTRI and mainly the planned work under the Ethics Work Package (WP10, leaded by IPCZD).