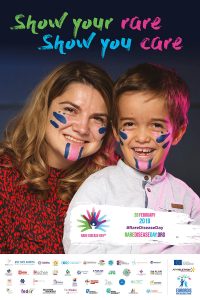 World Rare Disease Day is a very special event taking place the last day of February every year. The aim of this worldwide campaign is to raise awareness amongst society and policy-makers about rare diseases and their impact on the lives of patients and families. It is crucial to communicate the need of more research and improved social policies in this area, as there are around 300 million people suffering from a rare disorder globally and most of these pathologies are still unknown and lack appropriate treatment. Besides, 1 out of 2 patients diagnosed with a rare disease is a child, so boosting research on these disorders is a priority for the paediatric community.
EPTRI, as a project seeking to enhance pediatric research, is entirely committed to this initiative.
The EPTRI consortium joined the Rare Disease Day movement focused on boosting research on paediatric rare diseases, which will help to improve the lives of millions of children around the world.
EPTRI has become friend of Rare Disease Day and shows its support on its official website (https://www.rarediseaseday.org/friend/1906) and promotes the initiative among its partners and supporters.